Considered the idea of constructing and successfully operating a roofing company? Building your own allows you to be your own boss and then earn money.
Any successful roofing company needs passion and dedication. Even famous company moguls start small. It's one thing to like your job, but it's another to turn it into a flourishing roofing company that supports your staff, you, and your family.
Profitable roofing business ownership may be challenging. This is why so many roofing companies fail. Starting a roofing company is easy if you know how to avoid and spot hazards.
Step-by-Step Instructions on How to Begin a Roofing Business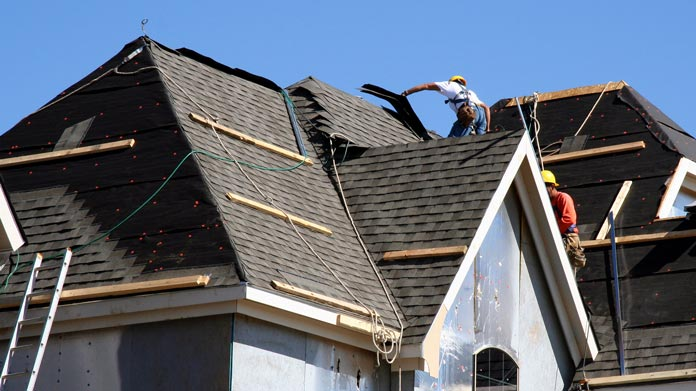 1. Target market research
As a new roofer, investigate your market. Determine the demand for your roofing services and how your competitors meet them. Competitors' knowledge isn't enough. Expertly assess your target market. Find roofing-related terms. If your target market looks saturated, don't worry. It's a competitive edge. If it works for other roofers, it can work for you. Also, money may be made.
>>Related post: Introducing RooferIntel's Human Resource Module
2. Plan your roofing business
This isn't the "funniest" element of beginning a business, but it's vital to developing a successful roofing company. Roofing contractors need a solid business strategy. It will help you find roofing business details and unknowns.
3. Form an LLC
You need a formal business organization like LLC to avoid personal liability if your roofing firm is issued. You may pick among partnerships, corporations, sole proprietorships, DBAs, and LLCs. Your accountant or financial advisor will choose.
>>Related post: Benefits of RooferIntel Estimate For Contractors
4. Register for Taxes
Starting a roofing company? Visit the IRS website to learn about state and federal taxes. Check the IRS Small Business and Self-employment center. Check your state's tax responsibilities.
5. Open a business bank account and credit card
Separate corporate credit cards and bank accounts safeguard personal assets. If your roofing company is issued and you combine commercial and personal accounts, your belongings are in danger. Pierce your corporate veil.
>>Related post: Must-Have Expense Tracking Features You Should Have On Your App
6. Get licenses and permits
If you fail to secure your roofing company's required licenses and permissions, you might face hefty penalties or even have to shut it down.
7. Get insured
Your new roofing company needs licenses and insurance to operate safely and legally. Various insurance plans address unforeseen hazards for different firms. If you're unsure of your business's risks, start with general liability insurance. Worker's compensation insurance is another essential roofing coverage. If your roofing firm has employees, your state usually requires workers' comp.
8. Market your new roofing business
Why choose you to build or replace a roof? If you desire a profitable roofing company, answer this question. Roofing marketing is the solution. Starting a roofing company may be overwhelming. This article discusses roofing marketing methods to help your firm get credibility, recommendations, and customers.