CRM software has progressed to the point where it can assist businesses more effectively by handling duties connected to human resources modules.
Employees are the most precious asset a business has, and they are the driving force behind its long-term success. When it comes to commercial reasons, managing and addressing the requirements of an organization's own employees is just as essential as dealing with the needs of clients and consumers in general.
It is incorrect to assert that customer relationship management systems (CRM) are only used to handle client and customer interactions; most HR managers and heads use CRM technology to manage their human resource module.
Check out what is in RooferIntel's human resource module in the article below.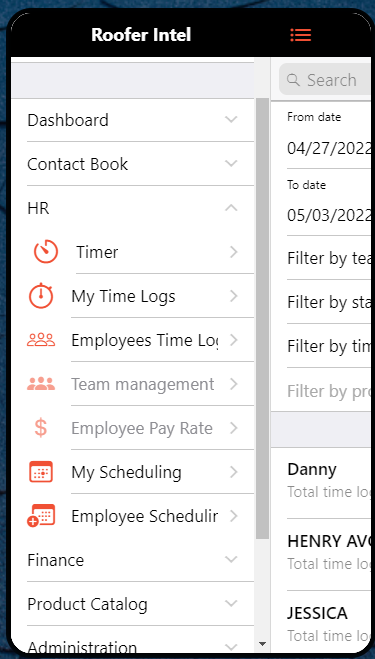 RooferIntel's Human Resource Module's Tools and Features
1. Team Management
RooferIntel's Human Resource Module has a team management tool that is used to manage the profiles of all of the employees, which includes all of the employee-related information, including salary and benefits information. It is permissible for employees to make changes or update parts of this general information whenever the need arises.
>>Related post: Must-Have Expense Tracking Features You Should Have On Your App
2. Employee Pay Rate
RooferIntel's Human Resource Module includes an employee pay rate tool that allows you to handle staff payment and branding in a simple and straightforward manner. Every aspect linked to payroll may be seen by an employee, and salary statements can be automatically delivered to all of the employees in the company.
>>Related post: An Overview of the Benefits of Using a Roofing Software System
3. Employee Time Log and Scheduling
RooferIntel's Human Resource Module includes an employee time log and scheduling feature that helps you and your employee input time logs and manage employee shift schedules.
In addition, your workers may be able to access their schedules and attendance records. It also features a filter by teams, statuses, time log types, and the project for easy access and viewing. Once you've gathered this information, you can utilize it to improve your estimations, optimize your process, and complete projects on schedule.
>>Related post: Introducing RooferIntel's Roofing Cam Management
4. Project Timer
It works almost just like the attendance time logs, but the RooferIntel Human Resource Module also features a project timer, which lets you and your staff track how much time you have spent working on a given project by manually entering it or by setting the project timer automatically. You may also enter other information, such as the time log type, a project, a building, or a section, the date, and the opportunity to provide notes for your co-workers to read, among other things.
>>Related post: The Five Steps To Obtaining A Virtual Roofing Estimate
Our Software Makes Human Resource Module Simpler
Our Human Resource Module will help you manage your teams, pay your employees the right amount, and keep track of their time on all of your projects. Begin utilizing RooferIntel's services now by visiting our website.