In this tutorial, you will learn how to make use of RooferIntel's customized reports, as well as the fundamentals of customizing reports. Therefore, let us get started!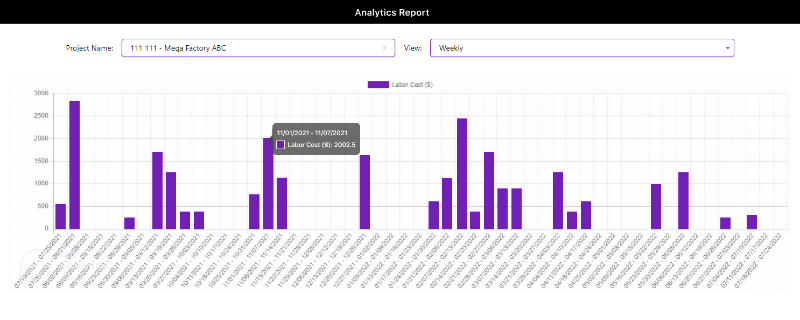 List of Completely Customized Reports for the Construction Industry
When you make the decision to expand your business, RooferIntel can assist you in doing so by providing a drop-down choice of common tailored options. In order to push your game to the next level, it is important for you to keep an eye on these figures. If your customer relationship management (CRM) or project management solution does not provide you with these indicators, you are losing out on important data that may help you succeed!
1. Task Report
Gain a comprehensive understanding of the tasks involved in the workflow of your team.
2. Job Report
Improve your judgment of the tasks that are currently being performed by your team and more.
3. Contact Report
Learn about the encounters that your team has had with different clients over a certain amount of time.
4. Activity Report
Gain visibility into the activities taken by staff over a certain period of time or when assisting a particular client.
5. Estimate Report
Examine the estimates that have been provided to clients by the members of your team.
>>Related post: What You Should Be Looking for in Your End-of-Year Reports
6. Work Order Report
Examine the work orders that have been generated by members of your team for various clients.
7. Budget Report
Determine the current state of your company's finances. Learn to balance your income and your expenses.
8. Report From the Commission
Keep a record of the commissions earned by your sales staff over the specified time period.
9. Invoice Report
Take a look at the bills that your company has to pay to the various suppliers and subcontractors.
>>Related post: How Much Do You Know About Aerial Roof Measuring Reports?
10. Report on Payments
Find out the current payment status of your team, as well as other information.
The vital thing to keep in mind is that these ready-made Custom Reports are only starting points since RooferIntel provides you with the capability of both a CRM and a project management solution in one package. You have the ability to generate a number of distinct reports depending on each report type, then store the results as your very own one-of-a-kind Custom Reports if you so want.
Also, bear in mind that certain businesses may benefit from RooferIntel's extra-tailored solutions for their report needs and other elements of their contractor businesses. Get in touch with us if you want to learn more about how our training of the highest possible standard might benefit you and your staff.