RooferIntel is a collaborative software solution that connects employees and improves corporate communication, created by roofers, for roofers.
A roofer who has stood in the roofing business for more than twenty years came up with the idea for RooferIntel, which enables roofers like him to innovate and operate more efficiently by giving them the all-in-one software they need.
RooferIntel is intended to assist you in managing and developing your firm in a never-ending cycle of development. Our corporate headquarters are situated in Tomball, Texas. We can help you realize your excellent communication and operation objective with our all-in-one roofing software solutions for residential, commercial, and services.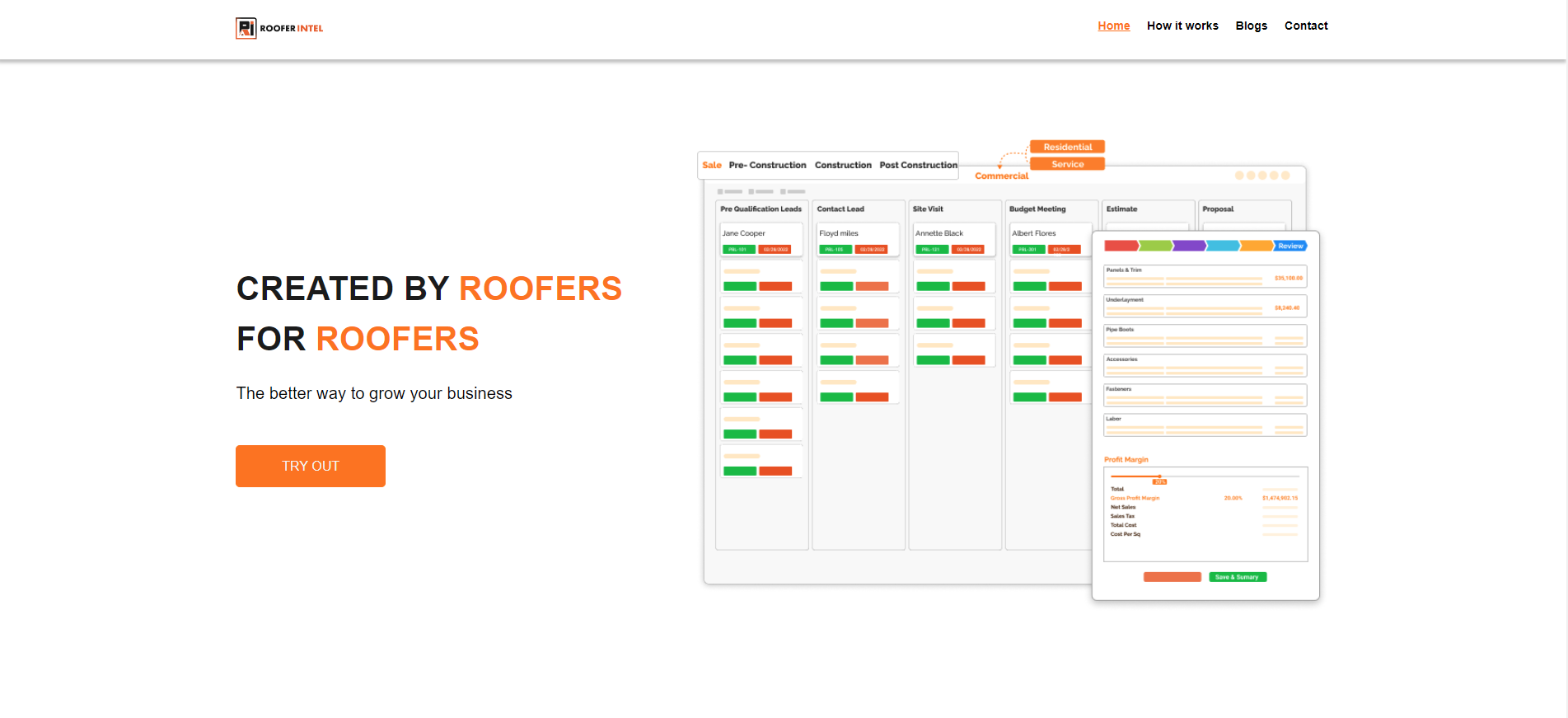 Why RooferIntel?
RooferIntel helps you realize the full potential of your company by streamlining business procedures. Easy to use due to its adaptable platform design, which is optimum for long-term development, accessible from anywhere in the world with the palm of your hand, accurate in estimates and proposals, productive in operation, efficient in team communication, and very practical in cost management.
>>Related post: Introducing RooferIntel's Human Resource Module
How RooferIntel work?
RooferIntel is a collaborative software system that connects colleagues and improves the efficacy of business communication via the proven use of the following technologies:
An all-in-one roofing software solution with a customized workflow for commercial, residential, and service projects alike.

A job-centric software solution that keeps track of all actions from the very beginning.

An integrated software solution that connects colleagues while also streamlining corporate communication is being developed.
>>Related post: An Overview of the Benefits of Using a Roofing Software System
What Sets RooferIntel Apart from other Software?
RooferIntel offers easy-to-use and straightforward roofing software solutions to development firms, facilitating the following services:
1. Business Flow in a Dynamic Environment
RooferIntel software includes three distinct business processes for each of the three sectors: commercial, residential, and professional services. Because each industry has its own manner of doing business, a general approach will not be practical. We are roofers who create roofing software for other roofers. As a result, we understand the demands and difficulties of the roofing sector and know what is best for the roofing company.
2. Accurate Project Estimation
When estimating a roof, RooferIntel software offers a precise method for gathering information for either a new, tear-off, or recovered roof, allowing roofing firms to eliminate the danger of missing important information. The program enables the creation of estimates for a variety of different structures and roof systems. A custom metal design that is simple to use is supplied, and it is linked to the other estimating components.
>>Related post: Must-Have Expense Tracking Features You Should Have On Your App
3. Extensive Business Intelligence
Knowing your expenditures is the first step in understanding your organization, and having this information will assist you in making better business decisions. RooferIntel's report analytics tools give you valuable input into your roofing company's operation. RooferIntel offers tools to aid you in tracking all of your job-related expenditures and assisting you in optimizing and increasing the efficiency of your firm.
We recognize the value of having CRM, production management, and back-office solutions all in one place—created by roofers for roofers—and we want you to feel certain that you are in excellent hands when you choose RooferIntel.