Starting a roofing business may be a rewarding experience. It's an exciting process but can be time-consuming, tedious, and even perplexing. To ensure that you are ready to start a roofing business, you should ask yourself these questions.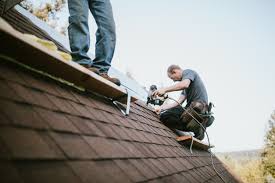 1. Am I qualified?
Many company leaders have a determination to succeed, good communication, and organization. Do they describe you? Starting a roofing company is a big task with many hurdles. Make sure you desire and can work for this.
Startups need strong communication abilities. It would be best to interact with workers, consumers, governmental authorities, etc. Managing your email, sending papers on schedule, and providing firms and customers with needed information is crucial to your business's success.
The organization is vital when beginning a business. You'll need to keep your critical papers, information, schedules, and resources organized. You can still establish a roofing company if you lack these traits. You merely need to determine the help you need.
RooferIntel is excellent for roofing contractors that wish to develop their company using technology. RooferIntel manages client tasks from start to finish. It organizes your data so you can understand how you're doing financially. Before beginning your roofing business, check out CRM or project management software for roofers to manage your business/finances.
2. Am I prepared?
Have you done your research? This is crucial for your new roofing business. Many businesses shortcut this procedure, assuming they know everything about roofing. This may kill your company's success. Quality business research may help you avoid troubles and avoid making errors due to ignorance.
Know state licensing and permit requirements? You don't want to start a career and learn you need more paperwork. Your customers will think your firm is unprofessional if you squander time getting permissions and licenses. Doing some research beforehand may prevent this.
RooferIntel has resources to help your work simpler. Consider how these software connections may help your business. Taking the effort to understand licenses, supply, market trends, company expenses, and technology helps prevent disasters.
>>Related post: How To Estimate Materials for Roofing
3. Is there a business plan?
You've planned and thought a lot without accomplishing much effort. This is difficult when you just want to make money. Before starting, create a business strategy.
A business plan helps you pay off startup costs and gives your firm structure. Your roofing business strategy should:
How much would it cost to start your own roofing business? How long will it take to pay it off?
Plan to pay off your first investment and create a routine to stay organized.
Record your accountability plans.
Your business plan may also cover your target market, services, and corporate structure. You'll also need a supplier to know where to buy supplies and how much they cost. After you've made and written down these ideas, you may start your own roofing firm.
After answering these questions, you'll be ready to start a roofing business. You have the essential attributes to form a roofing business, putting you up for success. The research will tell you what permissions and resources you need. Finally, your company strategy will include a timeframe and schedule. Follow your plan and watch your roofing company grow.