Ask these questions before selecting roofing materials:
How heavy is this material? Will it need specific framing?

Is the material available in colors and designs that match your home?

Is the material fire-safe?

Are there particular installation and maintenance concerns?

In your area's harsh weather, does this material function well?

What is this product's price, lifespan, and warranty?
Your home's most excellent decision will depend on the answers to those questions. The most popular roofing materials are listed below.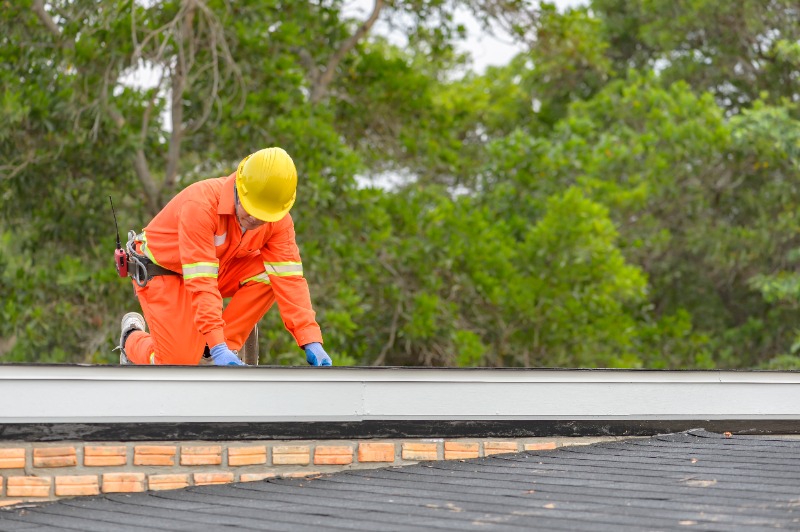 1. Asphalt Shingles
Asphalt shingles are the most widely utilized residential roofing material in the United States due to their low cost and relative ease of installation. Shingles like this may have either fiberglass or organic (cellulose) reinforcement without altering the shingle's visual appeal.

As a material, asphalt has several advantages, including its low cost, availability, and broad color options.

However, asphalt roofs don't last as long as those made from other materials, don't give the same level of insulation, and may vary widely in quality.

Asphalt shingles may be used on homes of many different architectural types, but they are particularly well suited to the classic suburban look.
The average cost of a square of shingles is between $70 and $120, and they may endure for up to 25 years with regular care.
2. Clay and Concrete Tiles
Tiles of clay or concrete give a roof a sophisticated look and feel. Natural clay tiles, whether flat, ribbed, or scalloped, are long-lasting, but their weight makes expert installation necessary.
Concrete tiles may be used in various applications and are more cost-effective than traditional clay tiles, but they are also relatively heavy.
Tiles made of concrete or clay endure a long time, are fireproof, and save money on utility bills.

Clay and concrete tiles are heavy, difficult to transport, and costly.

Clay and concrete tiles complement Spanish, Mexican, Southwestern, and Mediterranean architecture.

Tiles may be purchased for as little as $300 to $500 a square foot and can endure for up to 50 years with regular cleaning and sealing.
3. Metal Roofing
When it comes to severe weather, metal roofs hold up well. Metal roofing may be found in various metals such as aluminum, copper, stainless steel, and zinc and can be installed in two distinct styles: panels and shingles. These stylish, lightweight, durable, and recyclable barrels should be on your shortlist if you're thinking about a rainwater collection.
Metal roofing has several advantages, including longevity (it outlasts asphalt and wood) and protection from the sun (it reflects most of the sun's rays).
Metal roofing is more costly than other options.

Metalwork is particularly well suited to bungalows, cabins, and modern and cottage architecture.

Depending on the design, you may expect to pay anywhere from $100 to $300 per square, with some options going as high as $600 to $800. Longevity estimates for metal roofs range from 40 to 75 years.
>>Related post: Tips On How To Estimate The Materials Needed For A Roof
4. Slate
Slate hues, which may be found in black, green, grey, red, and purple, are beautiful and give the material a sophisticated look.
Slate has several advantages over other roofing materials, including its longevity, resistance to fire, and eco-friendliness.

Slate's drawbacks are its high cost, weight, and the need for a unique framework and expert installation. Since it is imported, the grade of slate might vary.

Slate roofs and walls complement Colonial, European, and French chateau architectural styles.

Prices begin at about $600 per square and go up from there. Slate has a lifespan of at least 50 years and may even survive 100 years or more in extreme cases.
5. Wood Shingles and Shake
Wood shingles and shakes have been used for centuries because they weather to a beautiful gray. Shakes are handcrafted and rougher than machine-cut shingles. In fire-prone areas, search for Class A wood roofing materials with fire-resistant shingles.
Wood shingles are created from natural materials like cedar, redwood, and southern pine and have a warm, earthy appearance.

Adversely, in specific locations, it is forbidden by fire regulations. Mold splits and rots are potential problems with wood shingles in humid regions.

Shake's natural appearance complements the cottage, Craftsman, Tudor, and Cape Cod architectural styles.

Price per square ranges from $100 to $150, with a 25-year to 30-year lifespan expected.
>>Related post: Recommended Long-Lasting and Economical Roofing Materials
6. Synthetic Roofing Products
Synthetic roofing materials like rubber, plastic, and polymer mimic natural materials like slate and wood. Solid and easy to maintain, these are fire-resistant materials used.
Synthetic roofing materials are less likely to break, weigh less, and cost less than their natural counterparts.

Water absorption in certain items is possible, and the overall quality varies. Products of recent vintage have not been subjected to the same rigorous testing as their more conventional counterparts.

Synthetic shingles are adaptable, so you may use them on various home designs.

Prices begin at about $300 per square, and there is a 50-year guarantee on the product's durability.