There is weather tracking software that may be found online—however, many charges a fee, either for the app itself or the radar subscription.
A few free weather tracking software and applications may provide you with real-time live radar data with negligible latency.
To what end is a short delay so crucial? Thunderstorms may build and move swiftly in the summer. Having up-to-the-minute radar data is a need throughout the winter months. Websites and applications that fail to update their data promptly might put you in danger when you're outside.
We've gathered a list of the five top weather tracking software options for your convenience. All of them are entirely cost less to use.
The Five Best and Free Weather Tracking Software
1. National Weather Service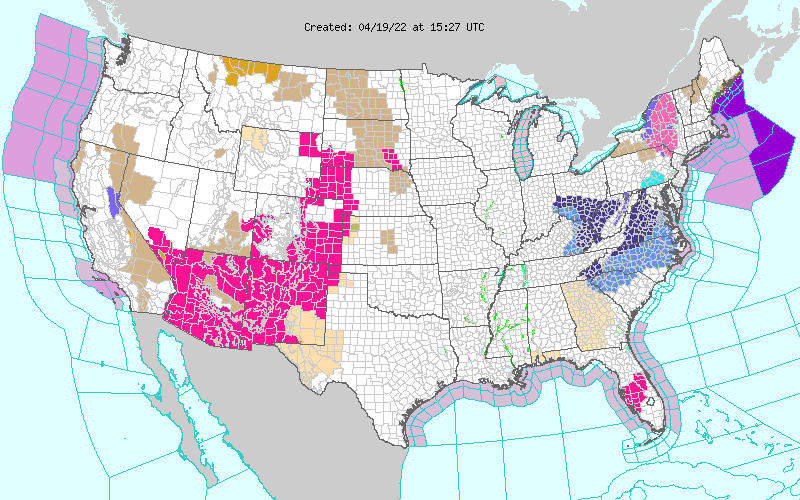 To begin, we had to go straight to the source. The National Weather Service's website provides free access to weather tracking data and has recently been upgraded to make it even simpler to use. A redesigned user interface allows for easy zooming in and out on PCs and phones. You may also see animations and other radar products that illustrate wind speed and rain. The site overlays warning boxes over the images to show which storms are severe.
Despite the redesigned UI, many old flaws persist. The radar quality is still grainy, and it updates slower than comparable applications. No app either, but that's owing to a federal non-compete provision with the commercial sector. So you won't receive extreme weather alerts.
>>Related post: Factors to Consider When Purchasing CRM Storm Damage Software
2. The Weather Channel
The Weather Channel app is a top weather tracking software and a favorite mobile weather app. Despite being a more broad weather app, we believe it has incredible radar capabilities. The satellite map utilized enables you to zoom down to street level. In addition, the company's exclusive short-range modeling allows it to estimate future storm movement up to six hours in advance.
The program smooths radar imagery too much to make it seem pleasant on the screen. As a result, statistics may be inaccurate, particularly when zoomed in. Smoothing is handled with a premium radar package that includes better resolution images and projected radar imagery.
>>Related post: A Guide To Writing More Powerful Customer Satisfaction Emails
3. Windy
A fantastic choice for boaters and pilots, and other outdoor enthusiasts who want a more detailed look at the weather is Windy. Additionally, it overlays wind data information smoothly and aesthetically pleasingly. Everything from precipitation to cloud cover may be layered on top, and you can even go through weather model data.
Although the weather tracking data is sometimes five minutes outdated or older, many people like Windy. If you're looking for something simple, we'd suggest checking some of the other weather applications and websites instead.
>>Related post: How Much Do You Know About Aerial Roof Measuring Reports?
4. AccuWeather
Aside from radar, AccuWeather is an app that does a lot more than merely forecast the weather. In addition to radar, AccuWeather's 15-day forecasts and a slew of additional meteorological data are all at your fingertips. While the Weather Channel offers a three-hour forecast option, a future radar option is also available on the radar. Even zooming in and out is a cinch with this app.
But even if it doesn't do as much as The Weather Channel's app, it is still enough to create some errors. Although the user interface is less user-friendly than others on our list, it is one of the most feature-rich ones.
>>Related post: Choosing the Most Appropriate 3D Roofing Design Software
5. Weather Underground
The Weather Underground is an excellent tool for both radar and hyperlocal weather. The site includes the world's most extensive collection of personal weather stations, and the data is shown on a map with radar for a more detailed view of an area.
If you don't need to know the current weather, the extra information may hinder you. Also, since it was owned by The Weather Channel years ago, its functioning is quite similar. Unless you require hyperlocal conditions, we recommend The Weather Channel app.
>>Related post: Top 3 Best Ways to Organize and Store Your Roofing Photo