Many organizations are forced to work from home to avoid the spread of the coronavirus; hence, many roofers are questioning how they can maintain their production levels high and continue to satisfy their customers' demands.
Most roofers have never been in this situation since they are accustomed to visiting customers face to face, knocking on doors, and concluding deals in person. You can adapt to working remotely without losing momentum if you're flexible, inventive, and leverage freshly emerging technologies. Here's how to properly manage your roofing business utilizing digital solutions.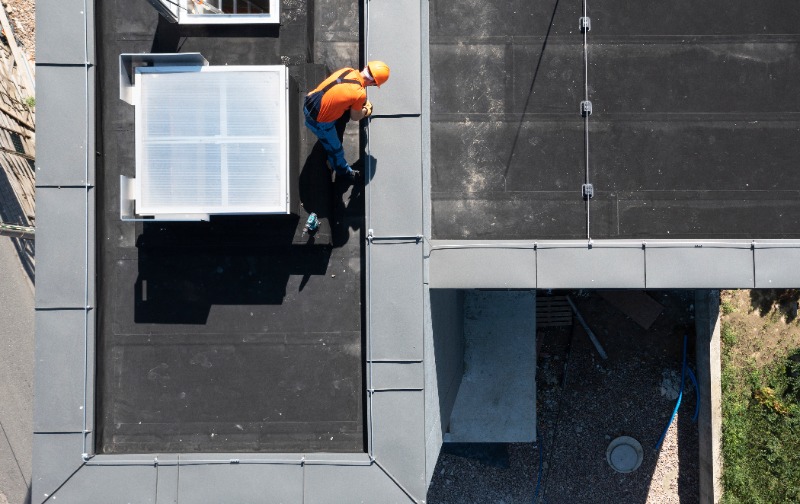 1. Search online for potential leads.
How often do you knock on doors or leave fliers to generate leads? Visiting a neighborhood and talking to homeowners is an excellent way for many roofers to get to work. When that option no longer exists, how can you find prospects?
On an average day, the Internet is a great place to find potential roofing clients. Since more and more individuals are working from home and using the Internet, it's a great place to find potential customers. Homeowners nowadays are more likely to do research online than they were ten years ago. You may change your outreach to meet prospective clients where they are and keep your company afloat by concentrating on Internet lead sources.
Using online search and review sites like HomeAdvisor and Yelp is one way to create leads through the Internet. All likelihood is that these services already have accounts set up for your company. Update your profiles and reply to client feedback ASAP. Homeowners who use these platforms to research roofing contractors will notice that you respond to and handle customer complaints, which will ideally lead them to use your firm. To keep track of leads from sites like HomeAdvisor and ensure that you follow up with them, roofing software like RooferIntel may import them straight into the system.
Facebook is a goldmine of internet prospects. As a result, now is a perfect moment to advertise your company on Facebook, as many people will be utilizing it. This may be done via paid advertising or sponsored content. You may narrow your Facebook ad's audience to individuals in your immediate area by leveraging the demographic and geographical data users voluntarily provide.
If you know where your most excellent leads have come from in the past, you may focus those advertising even more narrowly. RooferIntel's reporting features allow you to generate a report detailing the origin of your leads, which may provide light on whether or not certain regions or industries are consistently productive. Then, you may modify your ads' language and demographics to better connect with these prospective customers on the web.
>>Related post: Roofing CRM: The Essential Tool for Any Roofing Business
2. Use video to reach out to homeowners.
Roofing contractors often employ in-person methods to generate leads, and they also like to finalize business face-to-face. Chatting with potential clients is a great way to build rapport, and many roofers report closing more businesses. If roofers can't get together in person, they can't build strong relationships with one another.
In this day and age, a video call may be made by almost anybody. You may chat with homeowners about the work you want to perform for them, discuss the specifics of repairs, or even negotiate prices using video calling programs like Skype or FaceTime. An in-person or virtual face-to-face meeting may significantly improve communication. One of the benefits of using video calling applications to communicate with clients and leads is that it allows you to keep some of the personal touches that come with face-to-face meetings. Be sure to mention your availability whenever you communicate with others, whether by email, phone, or video.
Another option is to make a promotional video to distribute on social media, in which you make a sales pitch, or address frequently asked issues from homeowners. It's a fresh approach to reaching an audience and opens up new avenues of online communication with prospective buyers.
>>Related post: Better Methods for Roofing Businesses to Track Potential Customers and Potential Sales
3. Make it possible to run your roofing company from any location.
To ensure homes and consumers' security, remember to look out for yourself. With the correct equipment, your roofing company can be managed from anywhere. You can do it without worrying about your data being compromised and keep in touch with the rest of your team despite physical distance. Roofers have more resources than ever before to help them accomplish their jobs safely and effectively.
Because RooferIntel is hosted in the cloud, you may use it regardless of location. If you use a program like RooferIntel to keep track of your company data, you can access it from any location with an internet connection. This includes completed jobs, reports, finances, leads, documents, and more. The ability to make estimates and contracts, see and change job statuses and production schedules, and communicate with and be heard by workers is available regardless of physical location. So that you never have to fear software failures or data loss, RooferIntel rigorously tests and maintains all of our products. Working from afar without sacrificing output may be accomplished with the help of a cloud-based roofing software solution.