Say goodbye to manual procedures, paper receipts, and handwritten notes in managing business expenses with RooferIntel Expense Tracking software.
RooferIntel Expense Tracking keeps track of employee expenditures, but it also calculates how the company will compensate employees for the expenses they have spent. It also puts into effect the processes and policies in place to govern this sort of expenditure. For example, if employees are granted daily restrictions for meals while traveling, the expenditure management process will consider such limits when producing reimbursements for workers in that situation.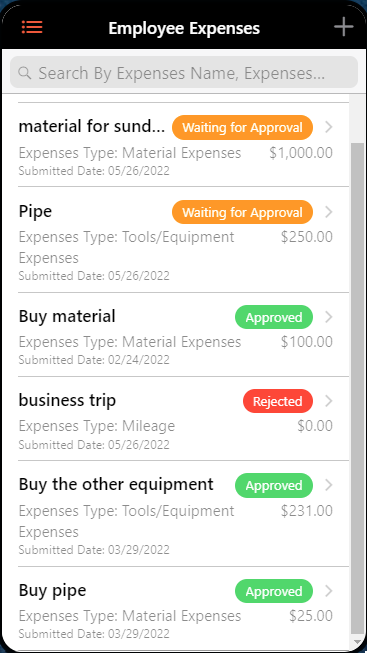 Why Is Expense Tracking Important?
To be successful, a business must be able to meet its financial commitments on schedule, one of which is paying employee expenses. Keeping track of out-of-office costs will always be a must for any company with employees who do business outside of the office. You must document, approve, and reimburse even the most basic expenses, such as a client lunch purchased by an outside sales manager.
RooferIntel Expenditure Tracking makes it possible for companies to be reimbursed quickly and accurately when they have reasonable expense management procedures in place. After incurring a cost, employees may not like having to wait many weeks or even months before they get paid.
>>Related post: Introducing RooferIntel's Roofing Cam Management
RooferIntel Expense Tracking Process
Expense tracking is a multi-step process that begins with the capture and submission of expenditures and continues with the request of reimbursement claims, the approval or denial of those claims, the scheduling of claims for payment, and ultimately the compensation of the employee in question.
Employers can keep track of their expenditures, verify that their employees aren't abusing the system, and take swift remedial action if they discover irregularities. If, for example, a salesman has been traveling first class without receiving prior consent, a brief review of their receipts will disclose that the salesperson has violated the rules.
>>Related post: The Five Steps To Obtaining A Virtual Roofing Estimate
Manual processes, especially for a company with an increasing number of field employees, might make identifying and resolving these problems difficult. Information gaps, expenditure approval without a thorough evaluation, and approvals that take too long are all difficulties that arise often. Additionally, employees are left wondering where their expense checks have gone (typically at a time when they're already accruing new charges for the following close period) as a result of this practice.
The need for real-time insights into spending and the desire to consolidate all of the company's spend management activities onto a single platform, such as RooferIntel Expense Tracking, rather than having them scattered across multiple spreadsheets and pieces of paper, are other important drivers.
>>Related post: Must-Have Expense Tracking Features You Should Have On Your App
Many expense tracking systems exist today, and not all of them are equal. Make sure that the solution is able to meet your company's unique requirements, is scalable, and comes with a high degree of post-sale support before purchasing it. Visit RooferIntel's website today to get started with our expense tracking services.