Technology has become the focal point of modern society. Video chat services like Skype or FaceTime enable you to hold meetings with individuals across the globe, and the realm of social media brings people closer together than ever before.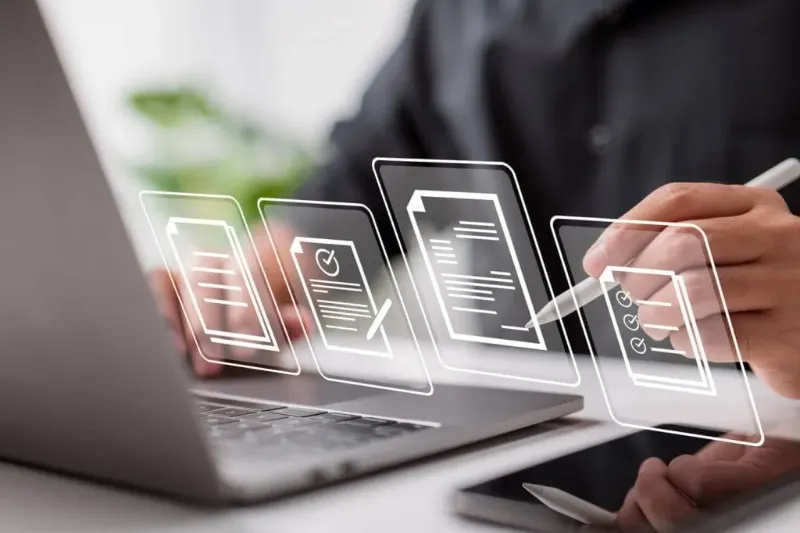 How to Decrease Paperwork at Your Roofing Company
1. When the rest of the world is using technology as its primary form of communication, there's no need for your roofing business to lag behind
Each new task your firm develops calls for estimates, contracts, lien waivers, warranties, etc., and that's only the beginning of the documentation required by roofing contractors. Paper, printing and storage expenses are incurred as a result of the documentation's preparation, processing, filing, and archiving after the project's conclusion.
Here's where tech comes in handy - QuickBooks by RooferIntel makes it simple for your business to go paperless and embrace the digital age, ushering in a new era of streamlined operations and pinpoint precision in your accounting.
>>Related post: All The Things You Can Do With RooferIntel CRM
2. Help to Lessen the Weight, Quite Literally
Because paper is so heavy, converting to an electronic system may have a noticeable impact on efficiency. It is not only cumbersome but also inconvenient to have to carry about. A little coffee spill is all it takes to destroy a stack of vital papers made of paper. Quick Books by RooferIntel ensures that your data is safe and secure. Your roofing company's records are safe in RooferIntel, and you can quickly locate what you need by searching or utilizing one of the various sorting options.
3. It's Simple to Digitize Your Paper Files
Using a template maker, you may quickly and easily digitize your most frequently used paper templates or documents. Once your templates are created, they are saved in your RooferIntel Account and auto-populate standard fields from your database, saving your sales teams time by eliminating the need to manually fill in information such as a prospect's name, address, and phone number.
Because of this feature's versatility, you get access to additional tools and skip the tedious intermediary processes of linking and arranging your data after entering it only once. This feature improves productivity by making your task easier and quicker to complete.
4. Your Files, Available to You Anytime, Anywhere
The worst thing you can do with your roofing paperwork is forgotten about it. Since your files will always be accessible through the cloud, you'll never have to worry about losing them again. Rather than having to schedule a meeting or wait for a form to come in the mail, digital papers can be easily emailed, allowing information to be shared with clients immediately.
>>Related post: An Overview of the Benefits of Using a Roofing Software System
5. Sign Documents Via email While You're Out and About
In addition to replacing paper records, Quickbooks by RooferIntel has many more uses. With this function, you may have a customer digitally sign documents through email or on the go with a mobile device. These digital signatures are time-stamped with an IP address, making them legally binding and enforceable as a handwritten contract would be.
Switching to RooferIntel will reduce stress, make important files easily accessible, and save up time, all while bringing your business into the modern day.