It is easy to get stuck in paperwork. Spending time on paperwork, whether stored digitally or in the office, can slow down work and take resources away from other vital business areas.
When working on essential parts of your business, reducing the amount of paper you use can be tricky. Here are some tips for roofing contractors who want to cut paperwork, spend less time on administrative tasks, and keep from getting stuck in paperwork.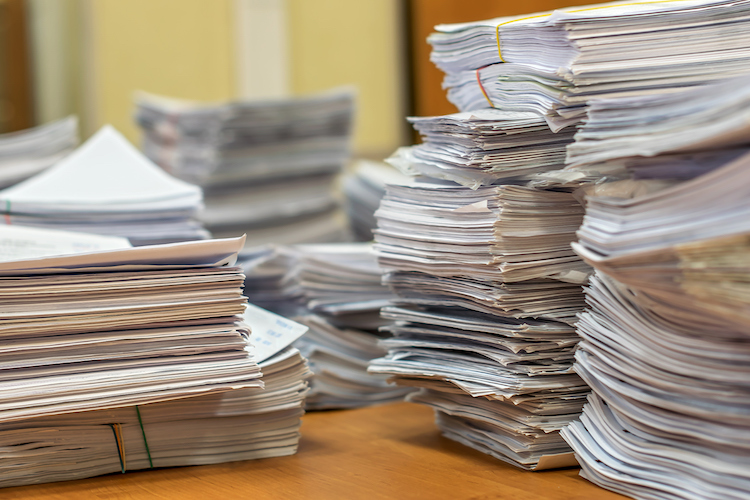 1. Stop using paper files.
Some roofing contractors keep their files on paper as they have for years. Paper filing was an intelligent way to run a roofing business, but now digital systems are the most efficient way to run a business. The first step to spending less time on paperwork is to stop using paper files.
Going digital won't eliminate all your work, but it will make it easier to do what you need daily. For example, instead of printing a document and having a customer sign it in person, you can send a digital copy over email and get a legally binding e-signature. You don't have to worry about what might happen to your physical files because your information is safe. Roofing software like RooferIntel gives you a digital database that you can use to organize and run every part of your business. This system is more efficient and easy to use than paper files.
>>Related post: Benefits of RooferIntel Estimate For Contractors
2. Keep everything in one place that's easy to get to.
When roofing contractors aren't organized, paperwork problems can come up in many ways, such as missing files, wrong information, and different versions of the same document. To cut down on paperwork, it's crucial to have a good way to organize things. Keeping all your information and paperwork in a single, easy-to-find place will help you ensure that your paperwork is correct and up to date without adding more documents.
A roofing CRM system like RooferIntel gives companies a central place in the cloud where they can store all of their paperwork. Documents like estimates and contracts, as well as the information you need for a job, are saved in a digital job file that you can access from anywhere. Our system makes it easy to find information with just a few clicks, so you don't have to look for a file or document. It's safe and secure, so you won't lose important information, and everyone on your team will always know what's happening. You'll never have to make a file from scratch or wonder if the information on a contract is correct. The RooferIntel system gives your roofing business a single source of truth, so you can spend less time on paperwork.
3. To make new documents, use standard templates.
Do you have to start from scratch every time you make a new estimate or contract? Putting together a new document every time takes a lot of time that could be spent on other things. Using standard templates to make this process easier, you can reduce your time on paperwork.
It's easy to make and upload templates for estimates, contracts, and other frequently used documents in RooferIntel. You can add templates for different jobs, trades, and more based on the work you do most often. When it's time to make an estimate or contract, all you need to do is choose a template and change the information about the customer. With this feature, it's even easier than before to add information to a template. It automatically gets customer information when you click the mouse. You don't have to keep making new documents or spend much time filling out estimates and contracts. You can make the documents you need quickly and easily.
4. Improve estimating accuracy.
A roofing business that does things right is good. When a roofing job is over- or under-estimated, it leads to wrong ordering and changes in cost, which creates more paperwork for already very busy roofing contractors. If your estimates and orders are more accurate, you will have less paperwork to do for your jobs.
Using aerial measurement services is one way to get more accurate estimates. These services use drones to take pictures of roofs. The photos are then turned into measurement reports with all the information you need to make an estimate. Not only are measurements taken from the air more accessible, but they are also more accurate than measurements done by hand. Since the reports are saved in RooferIntel, you can automatically add the numbers to your estimates. This cuts down on mistakes and saves time.
5. Electronically process payments.
If you don't pay on time or miss a payment, it can add more paperwork to your entire schedule. When you can process payments quickly, safely, and promptly, you will send fewer payment requests, and your bookkeeping will be easier.
Accepting electronic payments and credit and debit cards can help you get paid more often and on time. Since your customers can pay right then, you won't have to go after them later. And when payments are processed electronically, there is much less paperwork.