Contractors have been relying on aerial measurement tools to quickly and accurately estimate their projects for many years now, thanks to our technology.
There was a period when tape measures and digital cameras were the de facto standard tools for measuring. However, contracting, like many businesses, has gone digital, with more inaccurate and variable processes being replaced by more exact and consistent technology. Measuring reports generated by these modern technologies may be comprehensive and reasonably priced, saving time and money.
However, selecting the most appropriate measurement might mean the difference between profit and loss and the difference between possibilities to assist people in restoring their homes. Continue reading to learn more about the areas you should focus on while selecting an aerial measurement tool listed below.
>>Related post: Choosing the Most Appropriate 3D Roofing Design Software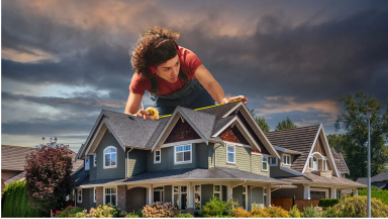 5 Good Qualities of an Aerial Measurement Tool
1. Effortless Delivery and Comprehensive Protection
It is required to select a provider that has the most possible coverage of residences and can give aerial measurements as promptly as possible. In an ideal world, the service would enable the client to pick between quick and longer deliveries while also providing a number of price alternatives customized to the project's time-sensitivity level.
2. Consistency in Material Estimation
Construction is a profession with a narrow profit margin. Contractors who win assignments are conscientious about reducing waste and keeping prices as low as possible while generating money. They often lose money on jobs because of inaccurate material cost estimating. It is for this reason that uniformity in the material estimate is essential. A profit-making estimate is one that is based on correct information.
Look for someone who keeps track of the prices of hundreds of thousands of building supplies to guarantee that the estimates are constantly up to date with the newest trends in the industry. Professionals must verify that their aerial measurement reports provide consistent findings and that they accurately estimate the quantity of material that will be necessary.
3. Easy-to-reach Customer Service
Many aerial measurement tool providers use a low-touch, self-service strategy to provide their services. This often indicates that the consumer will be unable to talk directly with someone in order to ask inquiries.
A human being is essential for contractors when dealing with the industry's complexities and aerial measurement. It is crucial that roofers can talk to a live person who can assist them and answer their queries as quickly as possible.
4. Pricing based on a Flat Rate
Contractors can budget for their projects and avoid unpleasant surprises with fixed-fee aerial measurement reports. Since contractors must the first scout for opportunities, utilize an aerial measuring tool to locate the area, compile a material list to make an estimate, and then win the work, the industry is generally considered speculative.
Whenever the price for aerial reports is unpredictable, it becomes substantially more difficult to anticipate expenses, which increases the level of uncertainty while prospecting. Flat-rate pricing simplifies the process, allowing contractors to budget and prepare more effectively in advance.
5. Adaptability to Weather or other Environmental Factors
When severe weather events occur, there is frequently a spike in requests for building or roof reports to be completed. Roof and building reports may be required if a large storm occurs, and the instruments and software used for aerial measurement and software must be capable of handling the increased amount of requests.
>>Related post: 5 Things To Remember That Insurance Adjusters Look For Roofs
Final Thoughts on Aerial Measurement Tool
When looking for an aerial measuring tool, contractors should look for features such as a readily available customer care team, flat-rate pricing, consistent material estimates, rapid fulfillment rates, broad coverage, and the flexibility to scale during peak periods. Professionals can attain the operational efficiency necessary to discover, explore, and win opportunities if they have these variables in their arsenal.
>>Related post: Best Aerial property measurement software Recommendations For You