Think about the benefits and drawbacks of collaborating with service providers:
Owning and operating a contracting company requires a substantial investment of time, effort, knowledge, and money. In many cases, numerous different areas of responsibility must be coordinated. Attempting to handle all of your services needs in-house might be challenging if you don't have the manpower or budget to do so.
A third-party contractor to help with a tedious or time-consuming task may reduce anxiety and save valuable time. Even if you have always done these things in-house, outsourcing to a company that focuses on a particular area of your organization is helpful, particularly during periods of high output.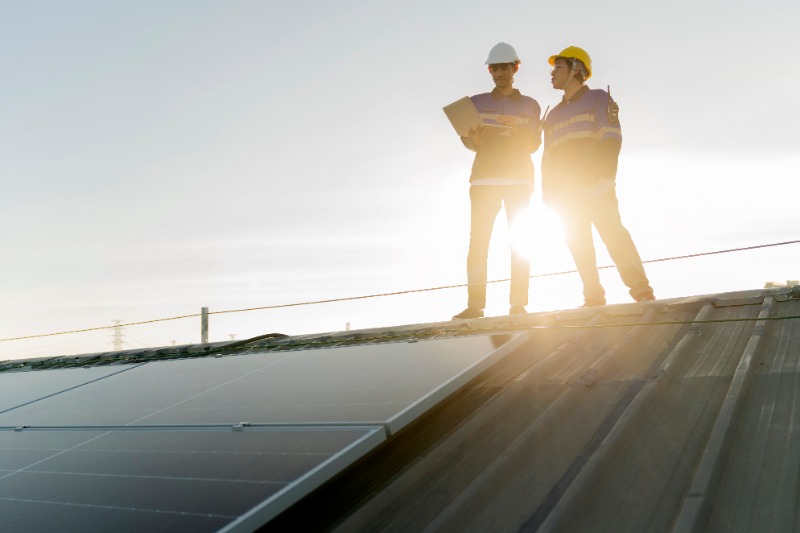 Aerial Measurements:
Providing quick and precise roofing measures is essential when attempting to deliver an estimate to a prospective client. Previously, a sales representative would have to physically visit the site and take measurements. Still, today, with the help of technology, businesses like EagleView and SkyMeasure can do this for you.
With 3D imaging satellites, precise measurements of almost every populated location on Earth may be obtained. Ordering a measurement is as simple as providing an address. In certain circumstances, integrations with these services mayhook up to your CRM and automatically complete your estimate fields with exact figures, doing away with the need for human error on both the measuring and the documenting ends.
Working with insurance firms or adjusters, who generally prefer aerial measurements because of their precision, is another everyday use case for these services.
As a result, your salespeople can maintain both feet firmly on the ground while offering precise estimates, thus increasing their safety.
In the midst of a storm or peak production periods, it may be difficult for sales representatives to wait for a third-party report before sending out estimates.
While the extra money spent on reports may not seem like a big deal initially, it might quickly build up depending on how many estimates your sales staff makes throughout a season.
>>Related post: How to Boost Your Customer Service Using Text Messages in Your Roofing Business
Supplements:
In the storm repair profession, engaging with insurers and their adjusters is a standard component of the job. The reports they give should constantly be reviewed by a project manager or other trained team member before beginning any activity. However, in certain circumstances, the benefits of working with a specialist vendor may outweigh the expenses involved.
Before beginning talks, a complementing service provider can quickly and effectively discover mistakes in reports since they know the ins and outs of the sector and any concerns with the relevant codes. Once they get all the essential information from you concerning the assignment, they will submit the paperwork and deal with the numerous phone conversations and discussions that may otherwise take your team days or even weeks to go through.
As a result of these discussions, your client will pay you what you're entitled to for repairing their property, and you'll be compensated. These services are often more effective than a busy sales professional in increasing the value of a claim.
An outside service provider can't replace a reliable employee from the company or a salesperson who has visited the house and talked with the owner. Because they can only see the property via the images you supply, they may not be seeing other projects or have access to historical work done earlier, which may impact the total project's scope or size.
Lead Generation:
Any company will tell you that finding new leads is a constant battle. Websites and word-of-mouth can only carry you so far, and it may take time to decide when to bring in an outsider to tip the scales.
When lead generation works – it works. Qualified leads may be found among the many property owners in a given region with targeted lead-generation campaigns tailored to your particular sector. A steady flow of customers and revenue may be maintained with these leads, which can be especially useful during slower periods.
It may be challenging to locate a service provider that meets your specific needs, and the quality of these offerings may vary widely among different companies. Telemarketing, brick-and-mortar stores, and lead lists are all examples of traditional methods that may be inefficient and expensive, with little to no return on your investment in terms of quality leads.
>>Related post: Roofing Contractors: How to Communicate to Get More Referrals
Internet and social media:
In today's digital age, it's crucial to have a strong web presence where prospective customers can quickly locate you and get information about your business. Support from social media platforms, in addition to a mobile-friendly website, is essential.
On the plus side, updating your website can increase your visibility in search results and attract more clients if you're a contractor. The initial investment in a professionally developed website may seem significant, but the positive perception of your company's openness, intelligence, and technological prowess will more than pay for itself.
Search engine optimization (SEO) is one of many strategies to boost traffic to your website. Social media may also serve as an additional advertising channel and point of contact. By encouraging staff members to post and share on their feeds, you may raise the visibility of your company's content. The engagement you produce by responding to comments or complaints can help your brand seem more friendly and accessible to prospective consumers.
Your company's online credibility will increase significantly if you maintain simple, consistent, high-quality social media accounts and a regularly updated website.
It requires time and marketing expertise to keep a website and social media channels current and to ensure that the photos and information provided are proper and professional. Although outsourcing your content creation to a third party may help if you need someone on staff with the necessary expertise, doing so comes with the risk that your audience will see the information you publish as less authentic and relevant to your brand.